Many municipal fleets and snowplow businesses wait until the first snowfall to check that their equipment is in working condition. It's not something to sit on, though – pulling your snowplows, salt spreaders, and other equipment out in the fall time for cleaning, inspection, and servicing can reduce the cost of their ownership and extend their life! 
There's still plenty of time to get your fleet in order – here's how Patrick's Mobile Trucking can help you!
Blade Checks & Maintenance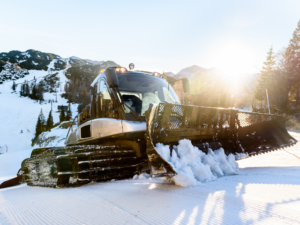 On snowplows, it's essential to keep an eye on the cutting edges and a-frames before they hit the streets. The cutting edge and cover plate are two of your snowplow rig's most essential components; as such, they need regular inspections and maintenance. The cover plate protects the main plow that cuts or breaks up compact snow, ice, and debris. It also skips over street fixtures such as manhole covers and potholes.
Older plow connections use a chain hoist; this should be free of rust or other signs of wear. Newer trucks use bolted connections for the moldboard angle, and these are susceptible to wear and tear while they work. Regular inspections will keep them in shape!
When we inspect your snowplow before the winter season, we make sure there is no damage to your moldboard, ensuring it holds a secure connection that can maintain the plow angle. Your blade angle should be ideally set to a 22 to 23-degree angle, depending on truck weight. Newer model trucks may require a higher blade angle, with some approaching 90 degrees to accommodate the lighter materials in the blade and vehicle chassis. 
When a driver plows with the blade at the wrong angle, it can cause a lot of truck damage, leading to a full day's downtime (at least!). Always get your plow out of storage before the snow and test it. Most shops are busy installing new plows at the beginning of the season, so getting in early if repairs are needed gets you faster service!
Looking Over The Truck Itself
Most municipal or commercial snow removal companies do not have one kind of truck in their fleet – they send out several types of equipment! It includes a multipurpose or flex-body dump truck with their choice of hitch and snowplow. Standard dump bodies involve hydraulic pistons mounted between the truck body and the cab and, more recently, in the front hitch.
When you have a team on hand to maintain your fleet before the busy season starts, you'll be ready for anything winter throws your way. Luckily, the Patrick's Mobile Trucking team has seen every kind of truck imaginable! From older models like DT Diesel Trucks and the Ford F Series to newer styles like the Kenworth T or Volvo A Series dump truck, we can handle all the snowplow service needs of almost every make and model.
Regular Checks On Your Snowplow Throughout The Season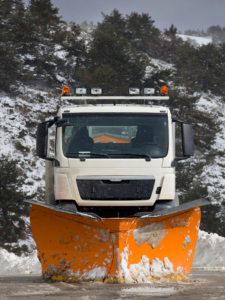 As mentioned previously, preventative maintenance for your snowplow fleet is one way we help; conducting regular pre-trip inspections is another! These are key to staying on top of all possible issues your hard-working machines could face. These inspections are different during the winter, as there are many more environmental factors that can deteriorate a vehicle's parts during the season.
Our checklist starts with the bolts and connections from the truck to the plow. We then look at the hoses for leaks or overt signs of wear and damage, then the pins and chains that secure the plow. This inspection is the same for newer hydraulic systems and chain and weld connections. We also make sure that any exposed areas of the hitch mechanics and pins do not see too much salt and debris, as these can damage the truck throughout the winter season.
Throughout the season, we make sure your winter service vehicle is stable and able to take on the weights and pressures that come with clearing a heavy snowfall. Our mechanics expertly inspect and service every part, from your rear suspension systems to the lifting systems and cylinders, right down to making sure you're running on the right tire pressure! 
When you choose Patrick's Mobile mechanics for regular snowplow check-ups, drivers will ride confidently knowing that their hitch hydraulics, bolts and connections are all checked and rechecked. It's the best way to be ready for the busy season!
https://www.patricksmobile.ca/wp-content/uploads/2021/10/Patrick-Mobile-–-snowplow-–-featured-image.png
1500
2000
becca
https://www.patricksmobile.ca/wp-content/uploads/2018/03/PatMobile-Logo.png
becca
2021-10-18 13:37:02
2021-10-18 13:37:02
Snowplow Repair: What We Can Do To Help You Be Ready For The First Snowfall