You might see a lot of trucks on the highway and notice them delivering your online shopping, but do you know the true impact trucking has on Canada? Let's explore some cool trucking industry stats and how it's an essential part of Canada's economy!
Facts You Might Not Have Known About Trucking In Canada
The Canadian Trucking Alliance reports that our nation's trucking industry is worth approximately $65 billion from over 63 million shipments. 
Trucking is a trade enabler between Canada and the United States. It moves more than 80% of all U.S. exports to Canada. At its peak, a truck crosses the Canada-U.S. border every 2.5 seconds! 

The trucking industry moves almost three times as many goods as any other mode of transportation. It accounts for more than 30% of the sector's share of GDP. Compare that to air, which makes up 12%, and rail, which makes up 11%. 

Heavy truck freight carriers accounted for 21.8 billion vehicle kilometres, while medium-sized trucks accounted for 7.4 billion kilometres.
Because of its population and proximity to the U.S., Ontario is one of the keys to our trucking industry. The province accounts for 40 percent of truck travel, 41 percent of for-hire trucking revenues, 54 percent of the total for-hire international truck tonnage and 63 percent of all trips that cross the border with the United States.
Trucking Is A Local Powerhouse & A Green One At That!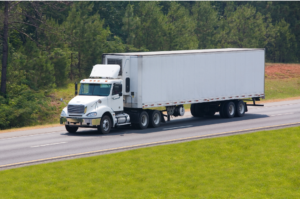 The diesel trucks on which Canada's industry relies are much cleaner than ever before. Even in the last five years, we've seen trucking make massive improvements related to energy efficiency!
It would take 60 of today's semi-trucks to equal the gas emissions from just one truck in 1988.

Painting a truck cab white can reduce thermal loading. It can keep drivers cooler to reduce the fuel usage related to A/C; in the United States, sleeper cab trucks use approximately 667 million gallons of fuel annually for rest period idling!

Did you know that one piece of gear helping trucks achieve better fuel economy is the mud flap? The Eco-Flap is an aerodynamic splash guard that lets air pass around the trailer more easily. It also reduces grime build-up by allowing water or mud from tire spray to drain on the flap instead of accumulating on it. In good weather, Eco-Flaps can reduce total fuel usage by as much as 3.5 percent.

For-hire trucking is a local job creator and keeps our country connected. Canadian-owned firms are responsible for over 80 percent of the tonnage shipped between provinces.
We Wouldn't Be Here Without Our Massive Trucking Family
One of the coolest facts – to us at Patrick's Mobile, anyway – is how many people are employed by the trucking industry. In Canada, the number of people comes to more than 300,000 drivers and over 400,000 overall employees. This includes logistics personnel, warehousing, and mobile mechanics like us! 
As we move into 2022, we're thankful for how the people behind trucking have stepped up to keep our country connected during the current pandemic. If you're one of the drivers or industry personnel, thanks for your hard work!
https://www.patricksmobile.ca/wp-content/uploads/2021/12/Patrick-mobile-–-industry-–-featured-image.png
1500
2000
Content Team
https://www.patricksmobile.ca/wp-content/uploads/2018/03/PatMobile-Logo.png
Content Team
2021-12-21 10:04:33
2022-01-19 06:02:21
Cool Trucking Industry Stats In Canada